44th ACPT • April 1-3, 2022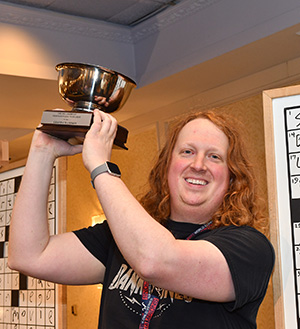 Don Christensen
Congratulations!
David Plotkin
Dan Feyer
Tyler Hinman - WINNER!
Andy Kravis
Stella Zawistowski
Paolo Pasco
Joon Pahk
Glen Ryan
Howard Barkin
Matthew Gritzmacher
B division winners
Paolo Pasco
Adam Doctoroff
Jesse Lansner
C division winners
Mike Wilhelm
Dan Schwartz
Andrew Lim
See left panel for all results.
Capsule History
Year 44 • 2022 • 474 contestants
The first in-person ACPT in three years. Program highlights included remarks by Josh Wardle, inventor of the game craze Wordle, who conducted a live Wordle competition on players' smartphones; "Palindrome Fight," a 60-minute palindrome-writing competition, won by Lisa Bunker; "Fact or Fake?," a trivia contest by Stan Newman; and presentation of the annual MEmoRiaL award, by Marie Haley, to Emily Cox and Henry Rathvon. On Sunday, students from Yale staged a preview of their musical "Word Nerd." A virtual ACPT, with 350 participants, was conducted simultaneously with the in-person event. The tournament was livestreamed for the first time. It was filmed for HBO's "Real Sports" and a CBC documentary. In Sunday's "A" division playoffs, Tyler Hinman won for the seventh time.
Capsule history of all previous years.
---
Pictures from the Tournament
---
Livestream Links for the Tournament
---
Social Media
Wordplay - the crossword column of the New York Times - written by Deb Amlen
Facebook: Crossword Puzzle Tournaments
Blogs
YouTube
Ben Zimmer: 2022 Division A Finals | 2022 Division B Finals
Email the webmaster if you want a link to your blog, images, videos, etc. included
---
Solving Perfection
The following 32 contestants solved all 7 puzzles with no mistakes.
Justin Ames, Evan Birnholz, Kevan Choset, Frank Colangelo, Patrick Dicaprio, Alexandra Doumani, Steve Feldman, Dan Feyer, Adam Gale, Peter Gordon, Randy Guggenheimer, Tyler Hinman, Susan Hoffman, Jason Keller, Andy Kravis, Jesse Lansner, Andrew Lim, Robert Mackey, Phoebe McBee, Robin Morrissey, David Moulton, Jonathan Olsen, Greg Pliska, David Plotkin, Nancy Ross, Dan Sadoff, Dan Schwartz, Rocky Schwarz, Roberta Strauss, Marcus Tonti, Karen von Haam, Stella Zawistowski.
---
Explain Puzzle 5 like I'm 5
Spoiler alert! Don't click the link unless you have tried Puzzle 5 and want to understand the theme.
Click to reveal the Puzzle 5 theme
---
Constructors
In Alphabetical Order
Gary Cee
Joel Fagliano
Tracy Gray
Christina Iverson
Wyna Liu
Brendan Emmett Quigley
Mike Shenk
Robyn Weintraub
Click for photos of this year's constructors and officials
---
Officials — 2022
| | |
| --- | --- |
| Director | Will Shortz |
| Coordinator | Michael Smith |
| Lead Tech Team and Webmaster | Nancy Parsons |
| Lead Judge | Mike Nothnagel |
| Database Preparer | Joe Cabrera |
| Virtual Tournament Manager | Dave Sullivan |
| Photographer | Don Christensen |
| Nametags | Mike Shenk |
| Playoff Announcers | Ophira Eisenberg and Greg Pliska |
---
Scoring
Scoring is based on accuracy and speed. Score as follows:
10 points for every correct word you entered across and down
A bonus of 25 points for each full minute you finished ahead of the suggested solution time — BUT reduced by 25 points for each missing or incorrect letter (but not beyond the point the bonus returns to zero)
A bonus of 150 points for each completely correct solution
For the purpose of scoring, a "word" consists of any series of letters written between black squares in the grid, or between a black square and the border of the grid, whether it is a single word, a phrase, or otherwise.
Complete rules will be explained prior to competition.
---
Who Competes?
Contestants simultaneously compete in all events for which they are eligible:
Division A
Everyone
Division B
Contestants who have not won a Division A or Division B prize during their last seven tournaments
Division C
Contestants who have not finished in the top 20% during their last three tournaments
Division D
Contestants who have not finished in the top 40% during their last three tournaments
Division E
Contestants who have not finished in the top 65% during their last three tournaments
Age Divisions
Solvers 25 years and under (Juniors), 50-59 years (Fifties), 60-69 years (Sixties), 70-79 (Seventies) and 80+ (Seniors)
Regional Divisions
Solvers in each of 11 geographical regions:
Connecticut, Other New England, New York City, Long Island, Westchester/Upstate New York, New Jersey, Other Mid-Atlantic, South, Midwest, West, Canada/Foreign [map]
Rookies
Contestants competing for their first time. Rookies are not eligible for "D" or "E" prizes.
---
Prizes
Division A
1st Prize
$5,000
2nd
$2,000
3rd
$1,000
4th-10th (each)
Trophy
Division B
1st Prize
$500
2nd
$250
3rd
$150
Division C
1st Prize
$100
2nd
$75
3rd
$50
Each of Divisions D and E;
Juniors, Fifties,
Sixties, Seventies, Seniors
1st-3rd Prizes
Trophy
11 Regional Winners (each) [map]
1st & 2nd Prizes
Trophy
Rookies
1st Prize
$500
2nd
$250
3rd
$100
4th & 5th
Trophy
Plus Every prizewinner receives a New York Times crossword collection from St. Martin's Press.
---