41st ACPT • March 23-25, 2018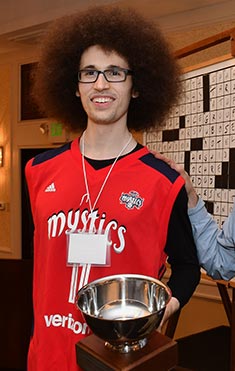 Don Christensen
Congratulations!
Erik Agard
Dan Feyer
David Plotkin
Joon Pahk
Tyler Hinman
Andy Kravis
Francis Heaney
Stella Zawistowski
Emily O'Neill
Kiran Kedlaya
B division
Marie desJardins
Andrew Ries
Ken Crowell
C division
Adam Doctoroff (Rookie)
Kyle Mahowald
Jenna LaFleur (Rookie)
See left panel for all results.
---
Capsule History
Year 41 • 2018 • 674 contestants
Richard Rogan, the crossword editor of The Times of London, spoke on Friday night. A cryptic crossword competition, with puzzles made by Rogan (U.K.) and Rich Silvestri (U.S.), was won by Catherine Cevoli and Jon Delfin, respectively. On Saturday night Max and Emy Zener performed a 10-minute comedy, "Two Puzzles Walk Into a Bar," introduced by the playwright, Donna Hoke. Nancy Salomon was awarded the 3rd "MEmoRiaL" prize. HBO filmed the tournament for the program "Real Sports," slated to air in May. In a stunning "A" division final, 24-year-old Erik Agard defeated defending champion Dan Feyer in a record time of 4 minutes 58 seconds.
Will Shortz
Capsule history of all previous years.
---
Pictures from the Tournament
---
Social Media
Email the webmaster if you want a link to your blog, images, videos, etc. included
Wordplay - the crossword column of the New York Times - written by Deb Amlen
Facebook: American Crossword Puzzle Tournament Attendees
Blogs
YouTube
---
Solving Perfection
The following 61 contestants solved all 7 puzzles with no mistakes.
Erik Agard, Laura Braunstein, Patty Buethe, Frank Colangelo, Kathy Conarck, Paul Coulter, Ken Crowell, Jon Delfin, Marie desJardins, Adam Doctoroff, Sam Donaldson, David Eckert, JRP Edwards, Alex Egervary, Steve Feldman, Dan Feyer, Jeff Frank, Randy Guggenheimer, Craig Harman, David Harris, Travis Hime, Tyler Hinman, Will Irving, Jeffrey Krasnick, Andy Kravis, Robbie Kubala, Jenna LaFleur, Jeff Levinson, Frank Longo, Kyle Mahowald, Brian McCarthy, Robin Morrissey, Jonathan Olsen, Emily O'Neill, Joon Pahk, Michael Paleos, Doug Peterson, Kelly Petitt, Greg Pliska, David Plotkin, Ira Rashbaum, Arnold Reich, Maureen Rekrut, Andrew Ries, Peter Rimkus, Ellen Ripstein, Meredith Rosoff, Dawn Ross, Dan Sadoff, Matt Sandler, Hollie Schmidt, Dan Seabolt, Roberta Strauss, Tom Tabanao, Rob Tricchinelli, Melissa Tsai, Finn Vigeland, Kevin Wald, Lawrence Wasser, Thomas Weisswange, John Wilson.
---
In the News
---
Constructors
Learn more about this year's Puzzlemakers.
---
Officials — 2018
| | |
| --- | --- |
| Director | Will Shortz |
| Coordinator | Michael Smith |
| Webmaster | Nancy Parsons |
| Scoring Programmer | Matt Ginsberg |
| Database Preparer | Joe Cabrera |
| Online Tournament Manager | Peter Ritmeester |
| Photographer | Don Christensen |
| Nametags | Mike Shenk |
---