39th ACPT • April 1-3, 2016
As the tournament progresses, results will be posted on the website. See left panel for results.
Don Christensen

Congratulations Howard Barkin!

Howard Barkin
Dan Feyer
David Plotkin
Joon Pahk
Francis Heaney
Al Sanders
Anne Ellison
Stella Zawistowski
Tyler Hinman
Jon Delfin

B division

Doug Peterson
Michael Megargee
Emily O'Neill

C division

Christopher Baker
Sam Donaldson
Miriam Sicherman (R)

See left panel for all results.
Capsule History
PuzzleSocial doubled the prize pool to $15,000. Eric Berlin conducted a giant Escape Room on Friday night, in which two-person teams raced to solve a series of word puzzles to escape from the Stamford Marriott ballroom. On Saturday night Patrick Creadon presented a film tribute to the late Merl Reagle, including never-before-seen outtakes from "Wordplay." Jeff Walters told the touching story of a crossword that Merl made specially for his cancer-stricken wife and published as a surprise for her in the Philadelphia Inquirer. The audience competed on puzzles from "Idiotest," the popular Game Show Network program. On Sunday Merl's wife, Marie Haley, presented the first "MEmoRiaL" (=Merl Memorial) award for lifetime achievement in crossword construction to Maura Jacobson, which her husband, Jerry, accepted on Maura's behalf. Dr. Fill finished in 41st place. In the "A" division playoffs, Howard Barkin upset six-time champion Dan Feyer to take home the $7,000 grand prize.
Capsule history of all previous years.
---
Pictures from the Tournament
---
Social Media
Facebook: American Crossword Puzzle Tournament Attendees
Blogs
Soundcloud: David Rind - Crosswords: Scandal & Competition
YouTube
---
In the News
---
Solving Perfection
The following 67 contestants solved all 7 puzzles with no mistakes.
Howard Barkin, Stephen Benoit, Anish Bhimani, Evan Birnholz, Cliff Chang, David Cole, Judy Cole, Kathie Conarck, Paul Coulter, Jon Delfin, Larry Edelstein, Alex Egervary, Sam Ezersky, Steve Feldman, Dan Felsenheld, Daniel Ferleger, Dan Feyer, Amy Goldstein, Peter Gordon, Craig Harman, Francis Heaney, Patricia Heath, Susan Hoffman, Matt Jones, Richard Kalustian, Jason Keller, Robert Kern, Louis Lana, Jesse Lansner, Sandy Lawrence, Eric LeVasseur, Jack Martin, Marc Maximov, Phoebe McBee, Michael Megargee, Daniel Okrent, Ron Osher, Jan O'Sullivan, Joon Pahk, Doug Peterson, David Plotkin, Chris Popp, Christine Quinones, Arnold Reich, John Reid, Ellen Ripstein, Dawn Ross, Jerry Rubinow, Lisa Rubinow, Al Sanders, Rocky Schwarz, Miriam Sicherman, Neil Singer, Anita Spielman, Daniel Stacey, Tom Strait, Roberta Strauss, Alexia Tate, Alex Thurman, Steve Tice, Mike Torch, Seth Tribble, Melissa Tsai, Jennifer Turney, Finn Vigeland, John Wilson, Stella Zawistowski.
---
Constructors
Learn more about this year's Puzzlemakers.
---
Officials — 2016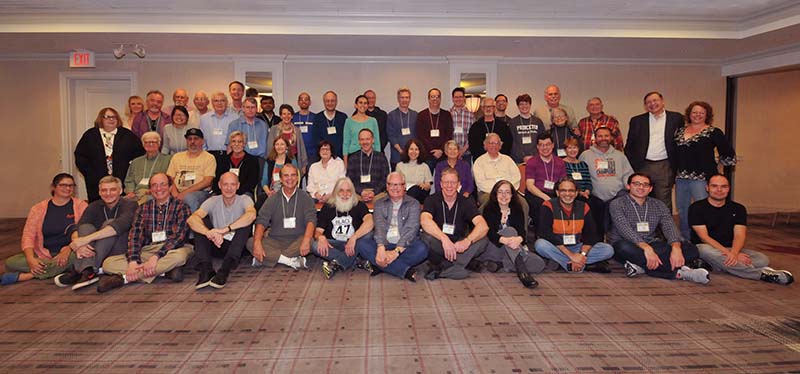 Click to enlarge
Director
Will Shortz
Coordinator
Michael Smith
Webmaster
Nancy Parsons
Scoring Programmer
Matt Ginsberg
Database Preparer
Joe Cabrera
Online Tournament Manager
Peter Ritmeester
Photographer
Don Christensen
Nametags
Mike Shenk
Playoff Announcers
Peter Sagal and Greg Pliska
Special Guests
Patrick Creadon and Christine O'Malley
Judges and referees
Andrew Stern, Anna Ball, Ashish Vengsarkar, Brad Wilber, Bruce Haight, Bruce Venzke, Carolyn Pahk, Casey Julia, Charles Foreman, David Rosen, Denny Baker, Doug Ashleigh , Emily Cox, Evan O'Donnell, Evie Eysenburg, George Barany, Henry Rathvon, Ian Livengood, Irina Lemoshov, Jeff Chen, Jennifer Tanner, Jim Page, Joan Kuhn, Joanne Sullivan, John Lieb, Jules Markey, Kristian House, Lea Berlin, Lee Ann Diehl, Lianne O'Donnell, Mangesh Ghorge, Marilyn Kelly, Mark Danna, Mark Diehl, Martin Ramos , Michael Topel, Michelle Arnot, Mike Nothnagel, Mike Shenk, Nancy Baker, Nancy Schuster , Natan Last, Nicole Mobley, Patrick Berry, Patrick Merrell, Peter Collins, Peter Reimeester, Piljo Yae, Rich Silvestri, Shawn Kennedy, Sherry Topel, Skyelar Ginsberg, Stan Newman, Tracey Bennett, Tracy Gray
Scoring room team
Fred Piscop, Janie Smulyan, Jen Yuan, Jim Russell, Judy Raphael, Nancy Parsons, Nancy Taubenslag, Matt Ginsberg, Paul Bruneau
---