March 8-10, 2013 ACPT •
---
In Memory of Doug Heller
In Honor and Memory of Doug Heller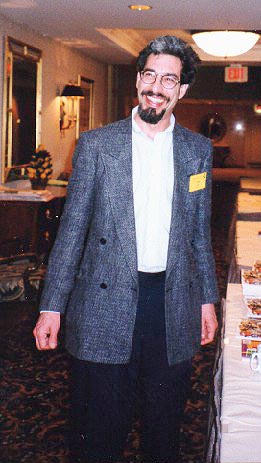 Douglas J Heller, webmaster and 36 year officiant to the American Crossword Puzzle Tournament, died on May 25th, 2012 from pancreatic cancer at the age of 57.
Doug started creating crosswords as a freshman in college in 1974 at the University of Rochester, where he wrote a daily puzzle for the Campus Times. Here's a great article from the Fall 1987 Rochester Review, which includes a puzzle Doug wrote in 1976. It talks about the fact that his inspiration for starting to write puzzles was Stephen Sondheim. When Doug was 19 and his brother Adam was 12, they spent a summer going to Broadway musicals and fell in love with Sondheim. One day they just stopped by Sondheim's house, knocked on the door and became friends. One year early on in his college years, Doug wrote to his sister Cathy "Steve gave me some puzzle books etc. — I can now solve the competition puzzle in "Harper's" — they're very hard — but great fun. School's okay too. Love, Doug"
Doug went on to work for both Penny Press and Kappa Publishing. At both places he brought his talent for crossword editing to the job, as well as his considerable programming skills. At both publishers he modernized and stream-lined the editorial process for the mass-produced puzzle magazine. Doug worked in puzzle editing for 20 years before entering the internet world.
Doug launched the website ushistory.org in the very early days of the World-wide Web on July 4, 1995 with America's Most Historic Mile, A Virtual Tour of Historic Philadelphia. This was followed quickly with sites such as the Declaration of Independence and the Betsy Ross House. Today ushistory.org enjoys over 9.5 million unique visitors each year.
Doug was a very "behind the scenes" man, using his many talents to help and educate people. He worked on a project if it interested and excited him and if he felt he could reach people. Doug was elected as a township commissioner and served from 2008 to 2011. In the last few months of his life, Doug was awarded Springfield (Montgomery County) Democrat of the Year, the Montgomery County Chamber of Commerce Excellence in Public Service award, and was postumously given a Tribute by Mayor Michael Nutter of Philadelphia for his work on bringing National History Day Philadelphia to national prominence.
Doug is survived by his wife, Nancy, sons Greg and Rob, and stepdaughter, Megan, his parents, Myra and Jack, siblings Tuvia, Cathy and Adam, and loving friends and neighbors.
---
A Personal Remembrance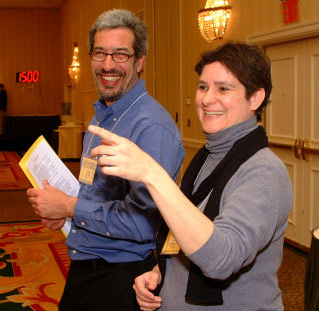 Doug and I met when he hired me to work as a "factotum" for Kappa Publishing (then Magazine Editorial Services) — that's what he wanted the ad in the paper for an administrative assistant to say. I can't remember if it did or not. I just remember that he hit me with that in my initial job interview and at that point I was brought into the circle of "Doug." This meant bad puns, great puns, off-beat trivia, hard work, hard conversations, adamant points of view and lots and lots of joy.
Doug loved Tournament weekend. He loved putting on the Judge's name tag on Friday night and would often forget to take it off until we got home on Sunday. He loved the people — Will, Mimi, Merl, Stephanie Spadaccini, Mannie, Ennie, Helene — to name but a very few. He loved the games, the camaraderie, the je ne sais quoi of the whole nerdy weekend. He was proud of the fact that he had been to every tournament. He loved to tell the war stories of the first years. He loved Stamford (except the drive up I-95). When he and Will started the crosswordtournament.com website, he was so committed to always having the most up-to-date information for all you crossword fans out there, that we would stay late on Sundays to get the winner's picture up, and stay up late when we got home on Sunday night to get all the other pictures up.
You could tell all this by the smile that he would beam as each old friend showed up and each new friend was made, the seriousness with which he would tackle each problem over the course of the weekend, and the total respect he gave to each and every crossword solver, whether it was their umpteenth year here or their first.
There is no other like him. He will be sorely missed.
Nancy Parsons Heller, March 9, 2013
---
Will Shortz published The Loss of a Friend the day Doug died:
---
---