28th ACPT • March 11-13 2005
©2005 Nancy Shack

Congratulations!

Tyler Hinman
Trip Payne
Al Sanders
Kiran Kedlaya
Katherine Bryant
Stella Daily
Patrick Jordan
Jon Delfin
Roger Barkan
Doug Hoylman

B division

Amy Reynaldo
Stella Daily
Arnold Reich

C division

Susan Hoffman
Jonathan Gray
Len Elliott

See left panel for full results; updated 3/25
"Wordplay," the Documentary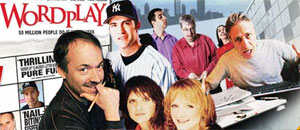 Click to visit website.
Wordplay focuses on the man most associated with crossword puzzles, New York Times puzzle editor and NPR Puzzle Master Will Shortz. Director Patrick Creadon introduces us to this passionate hero, and to the inner workings of his brilliant and often hilarious contributors, including syndicated puzzle creator Merl Reagle.
Along the way, the film presents interviews with celebrity crossword puzzlers such as Bill Clinton, Bob Dole, Jon Stewart, Ken Burns, Mike Mussina, and the Indigo Girls, who reveal their process, insight and the allure of the game.
In addition to deconstructing this uniquely American institution, Wordplay takes us through the American Crossword Puzzle Tournament where almost five hundred competitors battled it out for the title "Crossword Champ" and showed their true colors along the way.
Synopsis from the Wordplay website.
---
Pictures from the Tournament
---
"American Crossword Idol"
The Saturday night entertainments featured an "American Crossword Idol" contest where tournament contestants had the opportunity to share their talents. The winner was Leslie Billig, with an homage to Will Shortz.
---
Nancy Shack is offering high-quality versions of her videos, including many not provided on this website. The DVD is $3.50 and VHS tape is $5.00. You can order using Paypal here or you can
e-mail her
to arrange to pay by check.
More Videos from the Tournament
Videographer: Nancy Shack -- Thank you!!
---
In the News
---
From the Blogosphere
Eric Berlin (scroll down to March 13, 2005 and also read the comments!)

SadPunk "Oddly, I hadn't really been nervous. I'd been treating the whole thing as a bit of a lark, but when he said GO! a jolt of adrenaline ran through me."
---
Distribution by Puzzle
Thanks to Mel Rosen for running these analyses!
---