2003 American Crossword Puzzle Tournament
By Tyler Hinman
Friday, March 14
I arrive at the Marriott hotel in Stamford, Connecticut at around 2 PM. I am here for the 26th Annual American Crossword Puzzle Tournament. This year, close to 500 solvers will test their wits and enjoy each other's company in a weekend of wordplay. I anticipate the experience eagerly. I was last here two years ago, traveling all the way from England for it. As a rookie, I placed 101st out of roughly 350 contestants. Last year, while I was unable to attend, I participated in the "take-home" event and discovered that I would have placed 64th had I gone. I am anxious to see how I will fare this year. I am in the C division, for that is where rookies are placed and 101st place was not enough to put me out of that division in either direction. I check in, drop my stuff off in the room, and return to the lobby to schmooze. I enjoy reuniting with some puzzlers I met two years ago, and I see some new faces as well. In particular, I see my fellow youths Shawn Kennedy and Michael Shteyman, both serving as officials for the event. Teens at the tournament are few and far between, so it was good to see them. After collecting my registration materials, I tackle a puzzle by Jim Jenista that has the tournament flag logo as its grid, and I have trouble with one sector and a single square elsewhere. This deflates a bit the confidence I built up earlier by blazing through the Friday NY Times puzzle.
Soon, it comes time for the Cru dinner at a hotel restaurant. I enjoy the meal with my fellow participants from the NY Times crossword forum. We discuss the tournament ahead and our lives in general. The forum's host, Will Johnston, gives out door prizes, using playing cards as raffle tickets. Although I don't win, the card I draw is the joker. Omen?
Next is the Friday evening events. The tournament director and NY Times puzzle editor, Will Shortz, welcomes everyone, then kicks things off with "Le Quiz." He poses a series of questions that ask for the French word in a given category that appears most often in American crosswords; for instance, one asks for the most popular four-letter French river (YSER). The two winners receive a Palm-like device for solving crosswords. After the quiz, the special guest, Jean Rossat, gives a talk about the French crossword world. He speaks in French, periodically pausing to allow his companion to give the translation. Although the talk has a few interesting points, I and most of the people around me find it tedious. I spend the time working on a Kevin Wald cryptic. But next up is my personal favorite part of Friday night: a 29x29 crossword by Frank Longo, to be solved in teams of four. My team includes the aforementioned Jim Jenista and a top-level solver named Bill Michaels. The first team to complete the puzzle and follow its hidden instructions wins. Our team finishes just behind the winners, but that turns out to be good enough to win a free copy of the memoir "Pretty Girl In Crimson Rose (8)" by Sandy Balfour, which relates to cryptic crosswords. The puzzle concludes the Friday night games, and we proceed to the wine and cheese reception, where I meet some new people, including a few more young people. One is Sarah Bagby, a rookie, who, like me, lived in England for a spell. I also meet Emma Christensen, who is there to help her father, Don, the official photographer, but dabbles in puzzles. (I'm trying to get her to enter the competition next year.) At 11 PM, Will Shortz announces the winners from the games, and the night is officially over.
But many do not take this as a signal to go to bed. Board games and other diversions continue for several hours. I get an early copy of the Saturday NY Times puzzle and solve it as Mike Shteyman looks on. I get through it pretty handily, and Mike says I only took about six minutes on it. I'm not sure about that, but nonetheless it boosts my confidence. I then go back into the tournament hall and play Catch Phrase, which is basically a combination of Pyramid and Hot Potato. Good fun. Around 2 AM, I decide it has to be time for bed, for I must rest before the actual competition begins. Unfortunately, I have difficulty falling asleep and do not actually drift off until close to 3.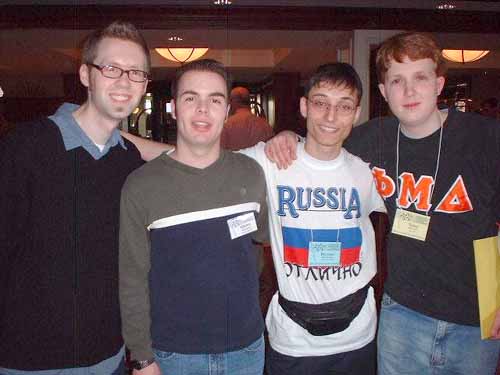 Matt Jones, Shawn Kennedy, Mike Shteyman, and yours truly
Saturday, March 15
Because I have signed in the previous day, I don't actually have to be down in the lobby area until 11 AM, when the first puzzle begins. Nonetheless, I am not at this tournament to waste hours alone in my room doing such frivolous things as sleeping. I set my alarm for 9 and end up rising at 8 anyway. I don't have much to do; I probably could get a puzzle book I brought if I really want to, but I decide just to talk with people and get myself geared up for the upcoming set of three puzzles. I down a muffin and some coffee, and I'm ready. I'm still feeling a little lethargic as I sit down to the first puzzle. However,as Will Shortz counts down the last few seconds before the word "Go," adrenaline kicks in. I buzz through the first puzzle in three or four minutes, on a par with the champions. Excellent start, but the first one is not supposed to be challenging. The second, though, is usually one of the harder ones in the tournament. I walk back into the room a bit nervous, but by this time the coffee has taken effect, so I feel pumped. I come through, finishing perfectly in a respectable time, only a couple minutes behind the perennial contenders. I look to close out a perfect morning with the third puzzle, which is between the first and second in terms of difficulty. I am just about done when I find myself staring at my last blank, CI_ (a British intelligence organization) going across, crossing _KNY (initials in fashion) going down. I lived in England for five years, but I've never heard of the Across answer; I kept trying to think of how I was supposed to fit MI6 in there. For the Down clue, my gut says D, but I'm not sure. I figure I must be getting it confused with the book publisher DK. Then, the name Calvin Klein pops into my head. Thinking CKNY sounds familiar, I pop it down and hand the puzzle in. Of course, I quickly find out while talking with people outside that my initial gut reaction was indeed correct. I curse myself and vow to trust my instinct next time I come across a tough crossing.
I am discouraged by my mistake, but I know I'm not licked yet. I resolve to put it behind me. I head out to lunch with a small group and end up at a table at Sbarro with fellow puzzlemakers Patrick Berry, Michael Ashley, and Dave Tuller. We discuss our puzzle-crafting exploits, making for an enjoyable conversation that enables me to forget my error. I appreciate the feeling I'm getting that I am equal to these guys, even though they are more experienced and prolific than I, the up-and-coming whippersnapper.
After that meal, we head back across the street to tackle the next set of three puzzles. Puzzle four is an easy one, and my success is similar to that from puzzle one. I feel good again, but my optimism is cautious, for the fifth puzzle is usually the hardest of the tournament. It is difficult and I pause in a few spots, putting me a few minutes behind the champs, but I finish perfectly. I'm thrilled and the puzzle three mistake is now a distant memory. I look forward to the sixth puzzle, which is always constructed by Maura Jacobson and always has a funny theme while keeping the difficulty level low. Sure enough, I buzz through it, have a few good chuckles, and finish off a perfect afternoon. Woohoo!
I now have a few hours to kill before the Saturday night games begin at 8. I chill with Emma for a while before she goes to dinner with her father. Then I stop off at the mall, where I'm pleased to find the new World of Puzzles I perused last night. I pick that up, then get some General Tso's (crosswordese alert!) chicken. I'm hoping to see somebody around, but I don't, so I eat quickly to get back and hang out with puzzlers again. When I return, I solve a puzzle in one of the free GAMES magazines I picked up earlier (I also bought Shawn Kennedy's cryptogram book) while listening to Joe DiVicentis relate some interesting anecdotes from his experiences on a massive puzzle treasure hunt. Soon enough, 8 PM rolls around and I take my seat for the evening events. First John Chaneski presents a Family Feud game in which every question is crossword-related. Then Shawn hosts a Password Plus game. Both fun to watch, though I can feel myself starting to get tired after the long day. Next Will Shortz puts on some videos from Stamford. They include television footage of the tournament as well as some home-movie-ish footage shot by the NY Times at last year's event. By the time the last one ends, it is just about 10:30. I hang out with Emma some more until she has to go to bed, then, continuing to defy my fatigue, I return to the banquet hall, where the usual gaming is going on. I join a dice-based game called Sharp Shooters, which is mostly luck with a bit of strategy. Very simple and enjoyable. When that ends, I spend a few minutes ambling around and see no games that really tickle my fancy. I decide it's time to sleep, for it's about 2 AM and there is still one more puzzle to tackle tomorrow. I sleep soundly.

Me and Mike Shteyman on Sunday
Sunday, March 16
According to the schedule, at 8:30 standings are to be posted. I wake up at around 7:30 and make it down to the lobby at around 8:15, where I am surprised to find that the standings are already there. I find my name, and am stunned to see that I am 26th. It certainly looks like I'm going to reach my goal of making it into the top fifty. The biggest shock, though, is yet to come. I find the sheet of the division leaders, and I do a double take as I see my name atop the C division. I can scarcely believe it. Now I'm really nervous. The top three competitors in the A, B, and C divisions get to go up on stage and solve a 15x15 unthemed puzzle on big whiteboards in front of everyone. It's something that sends chills down my spine, but it's also something I really want to do. Looking at the scores of the contestants nipping at my heels, I decide that if I finish the seventh puzzle perfectly, I'll be okay as long as my time isn't too far behind my usual. I resolve to take an extra minute to ensure that everything is well. The seventh puzzle is a Sunday-sized crossword which has a theme involving a lot of cross-referencing, but as I leave the room upon completion I feel like everything has gone according to plan. I spend a nervous hour flitting between groups of talking puzzlers as the officials set up the ballroom for the final. Then the zero hour is upon me.
I sit in the ballroom with my friends from the NYT forum (the Cru). Will Shortz finally goes up on stage to announce who will be in the final. He gives the C finalists first. The third place name is not mine. Nor is the second. At this point, I know that I either held my lead or made a catastrophic mistake and blew it. The looks on the faces of the Cru are expectant. Will announces the first place C contestant...it's not me. I put on a brave face, but I'm terribly disappointed. I replay puzzle seven in my mind and wondered what had gone wrong. Meanwhile, Will is announcing the B finalists. I'm really not interested until he gets to the second place position and says, "This contestant was actually in the C division, but he did so well that he qualified for the B final." The Cru and I are hopeful, and sure enough, he calls my name! I am relieved that I didn't choke on the final puzzle, but now of course I am nervous that I will be in an even higher-level final than expected. Roger Barkan, another junior competitor with whom I feel I'll have a good-natured rivalry for years to come, is ahead of me, and renowned constructor Frank Longo is just behind me. The C final will go first, so Stan Newman takes the A and B finalists downstairs, where he does a great job of making conversation and loosening us up. I still can't sit down, though. Soon enough, the B finalists are summoned upstairs. Stan leads us upstairs, checks to make sure the solutions are erased, and leads us to the boards. Will gets my opponents and me together to explain the rules. Because Roger is ahead of me by 390 points coming into this, he will have a 39-second head start over me. I will have a 3-second head start over Frank. I feel like I'm playing for second after hearing that. Will notes that accuracy is paramount; a perfect solution will beat a flawed one no matter what the times are. Because constructor Merl Reagle and Stamford radio host Marge Stevens will be giving commentary as we compete, we are given those obnoxious headphones that go into one's ear canal, then those are covered by much larger headphones. Through those headphones comes white noise, blocking out the noise from the commentators and the audience as well as actually helping us to concentrate. I hold the clues upside-down in my hand as Roger starts. I feel a tap on my shoulder when the 39 seconds expire and I begin. It takes me a while to get started, but once I do I work feverishly. I get hung up in a few spots, but I always work through it. Out of the very corner of my eye I can see that Roger is still working, but obviously I don't know how far along he is. I know he's fast, and with his head start he could say "Done" at any moment. Finally, I fill the last square, do a quick check to make sure I didn't leave anything out, and announce "Done." The room starts applauding, and I turn to see that Roger and Frank are still working. A friend in the audience signals to me that I'm completely correct. I win!!! I yank off my headphones and sit there stunned as the other two finish. Roger is staring at a single square (Christian letters=IH_ crossing President Ford's press secretary=NE_SEN; it's an S), which, I would learn later, has been stumping him since a few minutes before my finish. He knows that I'm done, and before long he puts down a U and finishes. So it's down to Frank. He's a few minutes behind, but he finishes correctly, so he takes second. I'm reeling. I get interviewed for the Stamford Advocate, which is exciting. I watch the A final, in which Jon Delfin successfully defends his championship. All very exciting.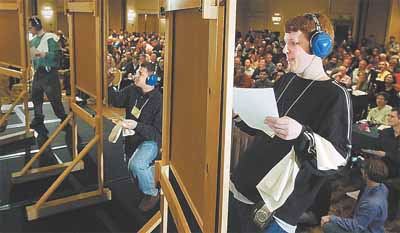 Working on the final puzzle for the B championship
After shaking hands with and accepting congratulations from a ton of people, it's time for the banquet. I sit with Steve Levy, an RPI alum with whom I keep contact, Ellen Ripstein, 2001 champion, Kiran Kedlaya, a top-shelf solver who placed 10th, and another young solver, Stella Daily, who took third in the Junior category behind Roger and me. We enjoy our conversation and our meal before heading back into the ballroom for the awards, presented by Jean Rossat. I accept my first place B trophy and my second place Junior trophy (the final does not affect the age or regional divisions, so Roger takes first in that category). I also win a New York Times puzzle book (I choose a collection of Sunday variety puzzles) and a dictionary, not to mention a check for $175. So sweet.
And just like that, after 48 hours of fun, the weekend is over. I had an absolute blast, and not just because of my victory, although that certainly helped. I eagerly antipate (and am already in training for!) the 2004 event, in which I'll be an A-level solver. Perhaps I'll see some of you there!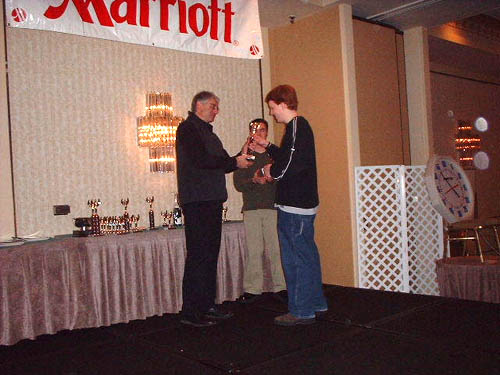 Accepting my prize from Jean Rossat
---
2003 Report ||| Tournament homepage
Copyright ©2001-2008 American Crossword Puzzle Tournament