Annual MEmoRiaL Award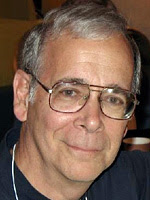 The winner of this year's Merl Reagle MEmoRiaL Award for lifetime achievement in crossword construction is Rich Norris.
Rich recently stepped down as the Los Angeles Times crossword editor. He has been creating high-quality crosswords for almost 30 years. His specialty is clean, accessible grids with precise, often twisty clues. His puzzles have appeared in many different venues, including the New York Times, Newsday, Wall Street Journal, and Crosswords Club, which he also used to edit.
Presentation of the award will be made on Saturday evening, April 1, at the American Crossword Puzzle Tournament with a film, tributes, and a visual history of Rich's most memorable puzzles. The presentation will be done by Marie Haley, the partner of the late, beloved Merl Reagle.
Rich was selected to receive the award by a diverse panel of respected crossword constructors, editors, and bloggers.
Due to impending knee surgery, he will accept the award remotely.
Past recipients have been:
2022 — Emily Cox & Henry Rathvon
2021 — Patrick Berry
2020 — [not held]
2019 — Mike Shenk
2018 — Nancy Salomon
2017 — Manny Nosowsky
2016 — Maura Jacobson
---