Source:
PARADE Magazine
Date: March 30, 2008
Byline: Lyric Wallwork Winik, Daryl Chen and Patricia Greco
Puzzle Master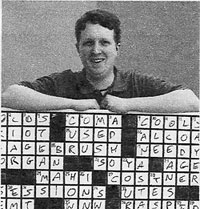 Tyler Hinman, a 23-year-old from Chicago, took first place at the 31st annual American Crossword Puzzle Tournament for his fourth straight win. PARADE asked Hinman about his way with words.
How do you prepare for the tournament?
There's really no way to prepare for the level of difficulty — you're going to get it or you're not. So it's a question of getting your speed up. I usually get a book of big, easy puzzles and practice doing each one at a steady pace throughout.
So how long does it usually take you to finish a New York Times puzzle?
Some days everything is clicking really well. A couple of Saturdays ago, I did [a puzzle] on the computer in three minutes, seven seconds. But the Friday before that, I got beat up pretty good. It took me about eight-and-a-half minutes.
What's your strategy?
I start with 1 Across, but I'm quick to move on if I don't know it. Then I fill in clues where I already have letters placed, ideally first letters.
How has your mastery of puzzles affected other parts of your life?
There's now a Tyler Hinman Fan Club — 90 members strong — and I have more than 1000 friends on Facebook.
---
---