Source:
Hotel Chatter
Date: March 19, 2012
Byline:
The Marriott at Brooklyn Bridge Was the Geekiest Geek Hotel This Weekend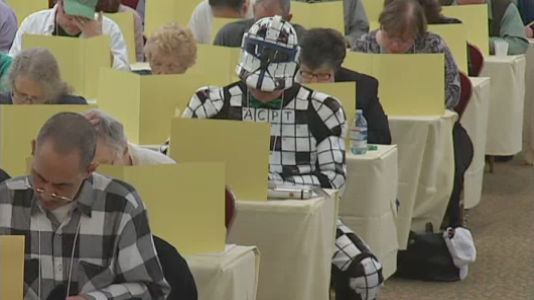 [Photo: HotelChatter]
We love geek hotels. Really, we do. The geekier and more kitted out with tech goodies, the better, but the Marriott at the Brooklyn Bridge was quite possibly the geekiest this past weekend in a plain paper-and-pencil (and pocket protector) way.
Hundreds of people descended upon the hotel this weekend for the American Crossword Puzzle Tournament, their No. 2 pencils sharpened and their "don't copy me" glares practiced. In fact, it was the 35th Anniversary of the competition, first begun by puzzle god Will Shortz. The 2012 champion is Dan Feyer and, though the fun is done for now, it'll be back — same place — next year.
If you're up for some serious crossword challenge and you're into the idea of spending a weekend hanging out at a hotel, then mark these dates on your calendar: March 8-10, 2013.
---
---