Source:
Stamford Advocate
Date: March 19, 2001
Byline: Susan Abram
The 19th Time Is a Charm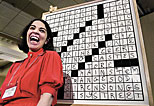 Photo: K. Sherck
Soap-opera queen Susan Lucci triumphed two years ago, winning a daytime television Emmy after 18 nominations.
Crossword queen Ellen Ripstein triumphed yesterday, winning the American Crossword Puzzle Tournament at Stamford's Marriott Hotel after 18 years of finishing in the top five.
For years, Ripstein, 48 - who is dark-haired, petite and about the same age as the "All My Children" actress - has been known as the "Susan Lucci of crossword competition." Now that Ripstein has added another similarity to the list - both were victorious on their 19th attempts - the comparison is sealed.
But it was a nail-biter yesterday at the Stamford Marriott, where the World Series of crossword competition has been held since the 1970s.
In the final round of the weekend-long competition, Ripstein and two other finalists stood on a stage, each before an oversized puzzle, wearing a headset to keep out the noise from the audience and announcer.
Sixty words in 15 minutes - that was the challenge. To add to the drama, Ripstein stumbled through a clue that seemed ironic, given that it was the question on the minds of the more than 300 crossword junkies who watched.
"What sots don't do" was the clue.
A sot (a drunkard or fool) doesn't "pass the bar."
Could Ripstein pass the bar this time? Could she get over her nerves, lift the curse that seemed to hang over head? Could she ignore the giant clock next to her that ticked away precious seconds and find answers to clues only people who get A's in college statistics classes seem to know?
Ripstein's black marker squeaked on the 3-square-foot puzzle. She defied the conventional crossword procedure of filling in answers left to right. Instead, she took the more unorthodox approach of installing letters all over - up, down, across, diagonally, right, left.
She printed letters in boxes, then erased them with a rag. She created phrases that made no sense, then went back and changed them. Twelve minutes ticked by. Words came together. Phrases were completed.
To her left, Patrick Jordan of Ponca City, Okla., called out that he was finished, but failed to spot an error. Ripstein was still in the running. Finally, after 13 minutes, she turned around, nervously mistook a news photographer for a judge and said, "I'm done."
Cheers erupted from the crowd, mostly judges who for years watched Ripstein compete and finish near the top. Tears rolled from Ripstein's eyes. She wiped them away, then composed herself quickly as photographers and television cameras swooped in on her, and reporters prodded her for comments.
This time, Ripstein would take home the $1,500 prize money, Merriam-Webster Dictionary and crown from Doug Hoylman of Chevy Chase, Md., who won the crossword championship six times since he began competing in 1986.
Excited by Ripstein's apparent victory, few realized there was one minute left on the clock, and Al Sanders of Fort Collins, Colo., was still working on his puzzle.
But time ran out, and Sanders put down his marker.
Reporters asked Ripstein what she would do with her prize money.
"Add it to my grandmother's inheritance and buy a laptop," said Ripstein, who used to be a health-insurance statistician before editing puzzles for a living.
As Ripstein basked in the moment, competitors and judges filed into the hotel lobby and reflected on her win.
In the world of crossword puzzle-solvers, Ripstein is a legend, their version of "Xena: Warrior Princess," in part because she is a woman in a competition dominated by men.
"She's been up there so many times," said Nancy Schuster, a judge from Pearl River, N.Y. Schuster was champion in 1978, one of the earliest tournaments. "Everyone knows about her. She's what's made this so exciting."
There's a general understanding among those who compete against Ripstein: If you're going to lose, it's better to lose against her.
"We were joking about this in terms of all the psychic energy on her," said Sanders, one of the finalists. "Five hundred people would be rooting for her, and we'll get one person each."
As with many who came to participate in the annual tournament, Sanders has been solving puzzles since he was a child.
Tournament winners typically can complete a Monday New York Times' puzzle - the paper's easiest - in three to four minutes, and a difficult puzzle, such as those that run in the Sunday Times, in 10 to 12 minutes.
Solvers say they like puzzles because there's a finite answer to everything. They have a love of words and the playfulness of the clues.
But even solvers admit that, to others, they can seem a little "freaky."
"It's like a fraternity of people," said 16-year-old Tyler Hinman of Sunningdale, England, who placed 93rd in the competition.
"Most people respect us, but others think we're a little tweaked upstairs," said Hinman, pointing to his head.
Hundreds of puzzle-solvers came to Stamford, known as "the mecca of crosswords," over the weekend for the 24th annual tournament.
Competitors from the United States, United Kingdom, Switzerland, Denmark and Canada participated. Twenty-six competitors were from Connecticut - four from Stamford and two from Norwalk.
---
---