Source:
ABC News
Date: March 16, 2012
Byline: Jennifer Metz
Computer Contestant Invades Crossword Tourney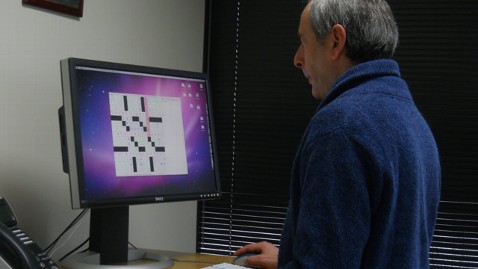 Matt Ginsberg
Matt Ginsberg with Dr. Fill
The best crossword puzzle solvers in the nation are gathering this weekend in a battle of fill in the blanks. But this year's American Crossword Puzzle Tournament has an unofficial entrant challenging human intelligence and speed — Dr. Fill.
The computer program, run on a laptop in the back of the hall where the tournament will take place, is the brainchild of Matt Ginsberg, an artificial intelligence scientist from On Time Systems who also constructs crossword puzzles for the New York Times. It's been over a year in the making and is a constant work in progress. Ginsberg insists Dr. Fill is ready for the challenge of this year's tournament.
Dr. Fill approaches puzzles in a completely different way than humans. It picks a word it wants to fill in, and tries to figure out the answer by thinking ahead to the crossing words. It "uses a massive amount of analysis about what will happen next," something that humans aren't really capable of, which "makes up for the fact it doesn't understand the clues."
The humans in the room who beat Dr. Fill (the computer has come out on top in simulations three of the past 15 tournament finals) will take home a button with 11-letters for "smarter than a computer:" I BEAT DR. FILL.
Ginsberg predicts Dr. Fill will finish in at least the top 30.
The computer draws on a database it has collected from past crossword clues and Wikipedia knowledge. Will Shortz, the tournament's organizer and crossword puzzle editor for the New York Times, said he can't "account for how it's done so well." One or two of this year's puzzles will challenge Dr. Fill, Shortz said. "There are some things that can't be programmed for, that take human insight to understand what's going on. We might be surprised."
Ginsberg was inspired by Watson, the IBM computer that faced off against Ken Jennings on the quiz show, Jeopardy! Watson's goal, Ginsberg said, was to get the right answer first, but Dr. Fill almost never arrives at the right answer on the first try.
"The crossing words provide tremendous insight," Ginsberg said. "Its performance is comparable to the best human."
Is Dr. Fill's puzzle-solving ability a scary prediction of the future?
Ginsberg doesn't see it that way. "Dr. Fill solves these problems, solves crosswords so differently than we do," he said.
"Computers aren't going to replace us ... they're going to let us do things we couldn't do separately."
Ginsberg will do a public demonstration of Dr. Fill's crossword solving ability on Saturday night where its human competition will get a glimpse inside the computer's brain.
The tournament will be held at the The New York Marriott at the Brooklyn Bridge March 16-18.
---
---