Puzzle Table Auction for Charity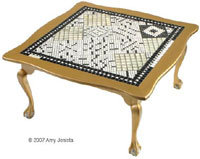 This table is one of a kind and is signed by the artist Amy Jenista. Will Shortz, Puzzle Editor at the New York Times is scheduled to autograph the table during the American Crossword Puzzle Tournament, where the table will be on display March 23-25, in Stamford, CT.
The original design, an ode to the New York Times Crossword, includes several famous puzzle constructions, including the first puzzles published in the Times, and the fewest black squares. While not a Times puzzle, the historic first crossword construction is also included.
The underside of the table is a collage of newsprint from the Times. The clue to the title of this art piece is given on the top of the table with blocks in the border for the solution. Answer is on the back, so don't peek if you want to solve it first!
The piece is hand built from solid birch, maple and hardwood laminate. The Queen Anne ball and claw legs are crafted and donated by Classic Designs by Matthew Burak. The mosaic top is laid out with vitreous and tempered glass tiles.
About the artist: Amy Jenista is a mosaic artist living and working in Chandler, AZ. She creates custom pieces on commission and for galleries. A selection of her work can be viewed at ajmosaics.com
---