33rd ACPT • February 19-21, 2010
Don Christensen

Congratulations!

Dan Feyer
Howard Barkin
Anne Erdmann
Tyler Hinman
Trip Payne
Kiran Kedlaya
Stella Zawistowski
Francis Heaney
Al Sanders
Ellen Ripstein

B division

Joon Pahk
Katie Hamill
Ron Sweet

C division

Louis Lana
David Plotkin
Barry Haldiman

See left panel for all results.
Rankings updated 3/15/10
Capsule History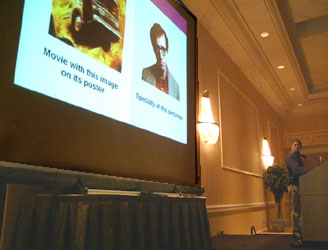 "Double Trouble" by Eric Berlin
Highlights of the weekend included a new hourlong Sunday morning variety show, "Crossworders Got Talent," featuring music, dance, games, and comedy performed by contestants and officials. The Friday and Saturday night games included "Double Trouble" by Eric Berlin; "Listmania!" by Greg Pliska, Joshua Kosman, and Ken Stern; and "Who Are You?," a musical quiz by Michael Littman and Marie desJardins, with piano accompaniment by Jon Delfin. Magnus Palm, the editor-in-chief of Sweden's Bonnier Korsord magazines, led a "Swedish Call My Bluff." The awards lunch was discontinued. Patrick Creadon, the director of "Wordplay," presented the prizes. Dan Feyer won the tournament. Five-time winner Tyler Hinman, 25, finished fourth, out of the playoffs, but took the Junior trophy one more time.
Will Shortz
Capsule history of all previous years.
---
Videos
Have you posted videos online? Let Us Know!
---
Podcasts
Know of a podcast we missed? Let Us Know!
---
Pictures from the Tournament
Have you posted pictures online? Let Us Know!
---
Blogosphere
Did you blog the tournament? Let Us Know!
---
In the News
Have you read a newspaper article about the tournament? Send us the URL!
---
Solving Perfection
The following 57 contestants solved all 7 puzzles with no mistakes.
Howard Barkin, David Bleich, Katherine Bryant, Patty Buethe, Paul Coulter, Tom Daily, Mark Dixon, Anne Erdmann, Dan Feyer, Howard Friedman, Peter Gordon, Katie Hamill, Randolph Harris, Brent Hartzell, Francis Heaney, Tyler Hinman, Susan Hoffman, Doug Hoylman, Jeff Janus, Will Johnston, Bruce Kahn, Richard Kalustian, Kiran Kedlaya, Joshua Kosman, Elaine Lippman, Frank Longo, Dave Mackey, Robert Mackey, Eric Maddy, James Mangold, Matthew Matera, Phoebe McBee, Daniel Okrent, Scott Orman, Jan O'Sullivan, Joon Pahk, Trip Payne, Carol Perone, Doug Peterson, Greg Pliska, David Plotkin, Arnold Reich, Amy Reynaldo, Ellen Ripstein, Richard Romano, Al Sanders, Suzanne Saunders, Rocky Schwarz, Tom Shakow, Dan Singer, Ken Stern, Ron Sweet, Steve Tice, Dave Tuller, Jennifer Turney, Kevin Wald, Stella Zawistowski
---
Officials — 2010
Director
Will Shortz
Coordinator
Helene Hovanec
Webmaster
Doug Heller
Scoring Programmer
Matt Ginsberg
Database Preparer
Joe Cabrera
Online Tournament Manager
Peter Ritmeester
Photographer
Don Christensen
Nametags
Mike Shenk
Playoff Announcers
Neal Conan and Merl Reagle
Prize Presenter
Patrick Creadon
Judges and referees (in alphabetical order)
Deb Amlen, Doug Ashleigh, Bree Berman, Jessica Bozarth, Melissa Casey, Yang-Yang Chen, Nikhil Dhingra, Liz Donovan, Evie Eysenburg, Vic Fleming, Miguel Franco, Ethan Friedman, PaulaGamache, Bonnie Gentry, Matt Ginsberg, Maru Gonzalez, Elizabeth Gorski, Doug Heller, Helene Hovanec, Todd Hovanec, Jessica Hui, Joan Hume, Marvin Hume, Maura Jacobson, Jamaica Jones, Casey Julia, Ian Kerrigan, Jeff Levene, Steve Levy, Randie Lipkin, Jarrett Lucas, Pat Merrell, Bob Nacht, Irmari Nacht, Stan Newman, Mike Nothnagel, Jim Page, Nancy Parsons, Fred Piscop, Brendan Quigley, Merl Reagle, Laurie Resnick, Carmelita Riley, Peter Ritmeester, Robert Roberts, David Rosen, Mel Rosen, Peggy Rosen, Sara Sadin, Pia Saunders, Nancy Schuster, Rich Silvestri, Michael Smith, Allison Somers, Donna Tessitore, Karen Tracey, Jessica Tran, Ashish Vengsarkar, Bruce Venzke, Byron Walden, Lee-kai Wang, Brad Wilber, Nick Wolf, and Jen Yuan
---